Faucets with eco-cartridges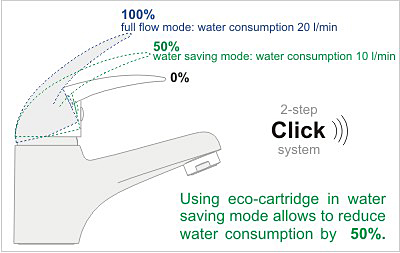 WasserKRAFT produces washbasin faucets with a two-step, 35-mm eco-cartridge, which reduces water consumption by 50% without affecting your comfort.
The faucet operation is simple. Pull the lever up to the middle position; water consumption is capped at 10 liters per minute. The water stream, however, has the same normal pressure you are used to. To switch the faucet to full capacity, raise the lever all the way up (with an audible click); in this case, water consumption will increase to 20 liters a minute.
Technical data:
Working pressure - 1-5 Bar
Max working pressure - 9 Bar
Working temperature - opt. 65°, max 90°
Operational life of cartridges and headworks is about 500 000 opening-closing cycles.
Maintenance:
When cleaning the mixers, only use saponaceous (soap-based) agents.
! Never use abrasive or scouring powders, cleaning agents containing alcohol, ammonia, hydrochloric acid, sulphuric acid, nitric acid or phosphoric acid.