Body of accessories
Accessories are made of brass, ABS-plastic, stainless steel, zinc alloy and other metal alloys. These materials are not suffered corrosion and intended for installation in places with high humidity and temperature differences. In contact with water even at high temperature materials do not isolate particles posed threat to health of people. Items produced by these materials are characterized by strength and durability.
Plating
WasserKRAFT accessories pass galvanization process (lamination coating of chrome and nickel). Nickel-chrome plating is steady to fogging, can be easily cleaned and gives to accessories glossy shine and silver color.
We also use "matt chrome" (satin) plating.
"Matt chrome" (satin) plating is made by special brushes with diamond bristles that allow achieving satin smooth surface. "Matt chrome" (satin) plating is very practical. On such plating you will never see dry stains from water.

Light bronze and dark bronze plating. Accessories that require this kind of finish pass the bronze plating process. Whether the ultimate color will be lighter or darker depends on the exact proportion of metals in the alloy used during the process. Finally, accessories are polished and lacquered.

White powder paint. White powder paint is used in manufacturing accessories. The coating is highly durable thanks to its application technology. The accessories will keep their original appearance and snow-white color for many years.

ORB coating. The product is thoroughly cleaned before coating. Then the body is copper-plated and painted black. After that the product is placed in an oven and heated to 120 degrees Celsius for 40 minutes. In the next stage, the accessories are varnished, which makes them smooth and pleasant to the touch. Finally, the products are dried with cold air in a special chamber
PVD finish.
The product is cleaned and placed in a vacuum, where it is coated by means of vapor condensation. In this case, the vapor condensate contains particles of various metals as needed to obtain the desired color. Then it is covered by a protective varnish and sent for drying. WasserKRAFT faucets use four types of PVD finish: gun metal, brushed gold, polished black and polished gold.

Epoxy paint
Before applying epoxy paint, the body of the product is carefully processed, cleaned and dried. Next, the product is covered with paint.
Epoxy paint has many benefits. Such coating preserves its color, perfectly withstands contact with water, and has high heat resistance. Thanks to this, products coated with epoxy paint fit perfectly into the bathroom.
In addition, epoxy prevents the growth of bacteria and protects the product surface from corrosion.
Plastic O-rings
All items are used with plastic O-rings and washers which are necessary for tight and noiseless joint of metal and glass. O-rings are made from transparent or black PP-plastic and have life duration not less than 10 years. This material is steady to heating and chemical reagent effect, have excellent flexibility and preserve original appearance and color of goods for a long time.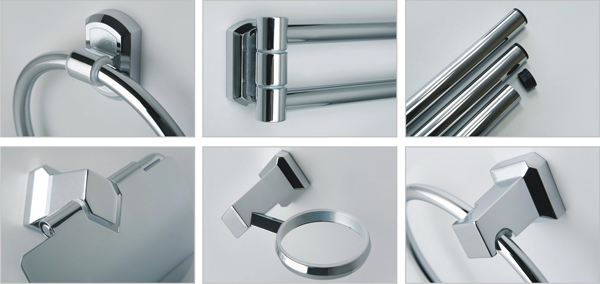 Series with glass and ceramics
All series of WasserKraft accessories are used with glass (matt or transparent). Some series can be used with snow-white ceramics. You can buy a series with glass or with ceramics. In each package you can find fitting kit and installation manual.
Measuring valve, head of dispenser
Head of dispenser is produced from the brass; it is not suffered corrosion and intended for installation in places with high humidity.
Operational life of measuring valve is about 50 000 cycles (pressing). It means that family of four will be able to use dispenser during 5 years without any restrictions. Measuring valve has smooth motion and measures a certain quantity of liquid soap (0,7-1ml). For filling liquid soap from dispenser simply press the measuring valve.

Supplementary components
Shelves are made from tempered matt or transparent glass with thickness of 6mm. Tempered glass is 5-10 times stronger than standard glass. When it breaks it disintegrates into small blunt pieces in comparison with normal annealed glass. Tempered glass has thermal strength and can endure temperature of about 300 degrees.

Accessories can be fastened to the wall in two ways:
- Items are fastened to the wall by mounting plate. Mounting plate is fastened to the wall by self-tapping screws, after that item is fixed to the plate by retaining screw.
(The series Oder 3000, Donau 9400, Aller 1100, Rhein 6200, Ammer 7000, Berkel 6800, Isar 7300)
- Items are fastened to the wall directly through the body of item. Item is fastened to the wall by self-tapping screws, after that the fastening place is covered off by decorative cap.
(The series Main 9200, Weser 8600, Leine 5000, Exter 5200)