WasserKRAFT original design
Shower curtains were jointly designed by WasserKRAFT designers and creative interior designers. Each collection is centered around a unique idea. Every collection is a part of its own unique world, which determines the unfolding story. This world can be traced back to the design itself. Here a carefree cat enjoys a sunny day or we see the marine world, a turbulent natural force sharing its positive energy with us.
Some designs also feature abstract motifs. We present a wide range of shower curtains for any bathroom.

3D textile printing
3D textile printing is used to apply a pattern to the curtain. This technology offers high image quality. The colors remain rich longer; they do not wash out or fade. This is because deep tinting paints are applied using special equipment and high pressure.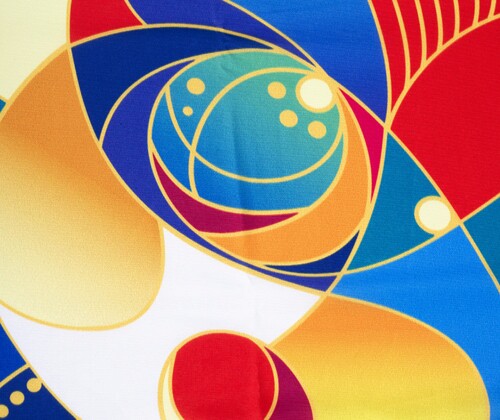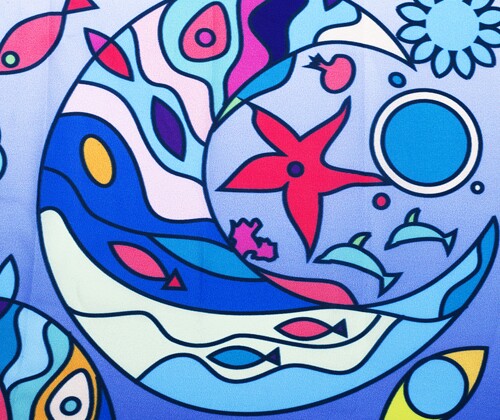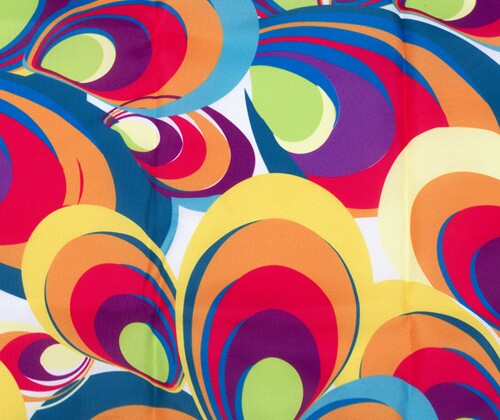 Materials – polyester
Shower curtains are made of 100% polyester. This material is also known as "decorative silk," which is not at all accidental. This fabric has a special gloss and is soft to the touch.
Shower curtains also perform excellently: they are highly durable, do not wrinkle and are easily machine washed.
Keep water out
Due to its water-repellence, shower curtain does an excellent job at its main function: it does not let water through. Shower curtain provides excellent protection against water splashes.
Shower curtain rings are included
Each shower curtain is bundled with 12 white rings that perfectly match the product design.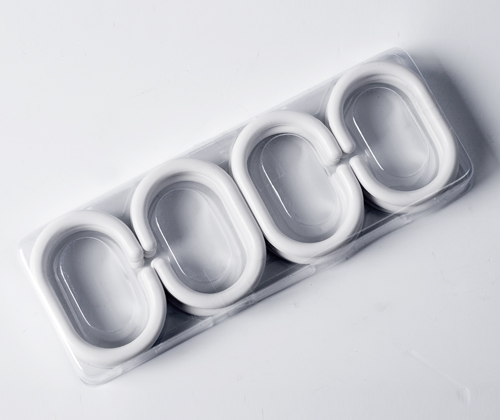 The bottom of shower curtain is weighted
All curtains have a weighted band along the bottom. This ensures that the curtain does not bend or rise. It safely protects the bathroom from water splashes. The weighted band is organically sewn into the bottom of the curtain, making it nearly invisible
Durable eyelets
White plastic eyelets at the top of the curtain are firmly bonded to the fabric. They prevent the fabric from tearing at the places of maximum tension.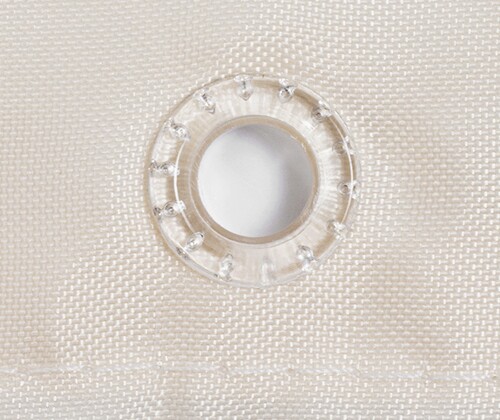 Machine washable at 40° Celsius
Shower curtains can be machine-washed. The washing temperature should not exceed 40 degrees.
Packaging.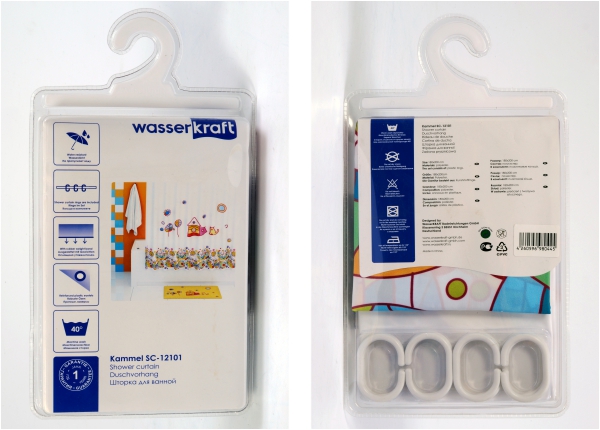 WasserKRAFT original design
Bath mats were designed jointly by WasserKRAFT designers and creative interior designers. Many collections directly resonate with shower curtain designs, creating a holistic conceptual interior. Designer drawing products are also perfect as separate decorations for the bathroom. Monochrome mats are also available, which offer amazing color palettes and versatility.
Safe materials: polyamide and microfiber
Monochrome mats are made of microfiber and designer drawing mats are made of polyamide. Both materials are ideal for use in the bathroom. They instantly absorb moisture and quickly dry.
Only safe materials are used to produce bath mats.
Soft surface
All bath mats are renowned for their softness. Everything is designed to make sure standing barefoot on the product is as pleasant as possible.
However, microfiber mats are particularly known for their softness. If you feel it once, you will want to experience this subsuming softness again.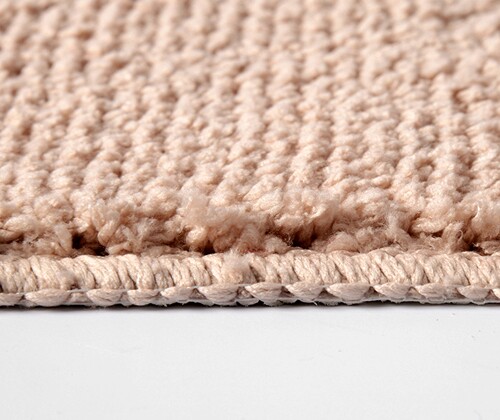 Anti-slip base
All bath mats have a special anti-slip base. It is made of rubber or latex, depending on the collection. The base prevents the product from sliding, which means that you will also stand firmly on your feet.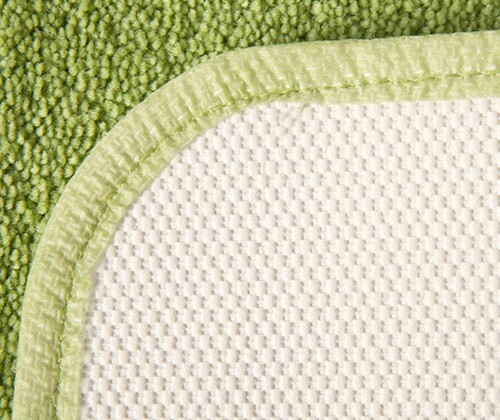 Machine washable at 30°
Products are easy to take care of. They are machine washable. But the most important thing is to follow the same rule at all times: microfiber mats can be washed at temperatures up to 30 degrees Celsius, and polyamide mats at temperatures up to 30 degrees while in a gentle wash mode.
Packaging.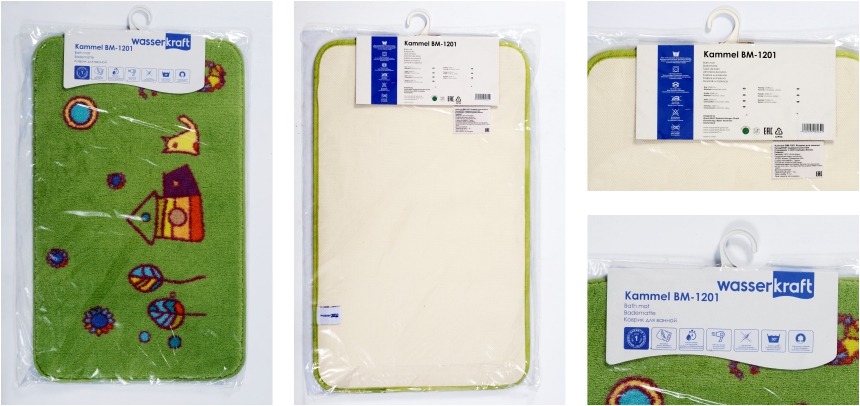 Natural materials
Only natural materials are used to produce wicker baskets: willow, pine or maize shoots, depending on the collection. These materials are flexible yet strong.
The weaving materials are harvested and stored according to strict rules. Each rod is individually tested for strength before weaving begins. This guarantees a longer service life for the finished product.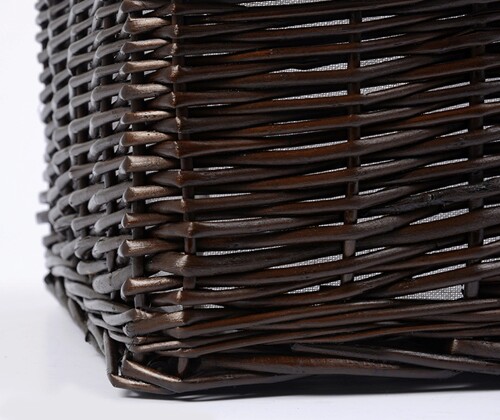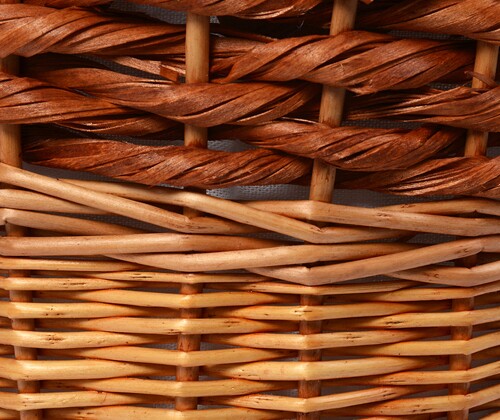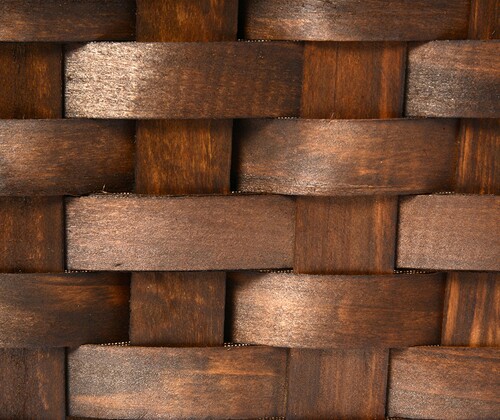 Water-repellent coating
To protect the wicker basket from moisture, it is covered with a protective varnish. This varnish has a water-repellent effect.


Pest protection
The finished product is treated with special chemicals that protect the wood from pests. This product is completely safe for humans and animals.
100% handmade
All wicker baskets are woven exclusively by hand. This is the only way to make the structure solid with an interesting and unique weave.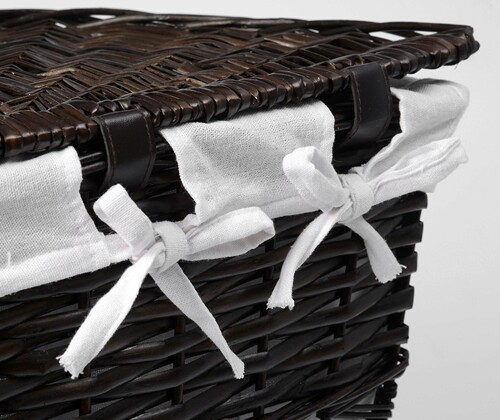 Rugged design
When weaving wicker baskets, the rods are woven firmly against each other, to ensure maximal structural strength.
Wicker basket is alive and breathing
The weave of wicker basket and its cotton cover offers outstanding air permeability. This allows you to store things as long as you want, without worrying about a stale odor.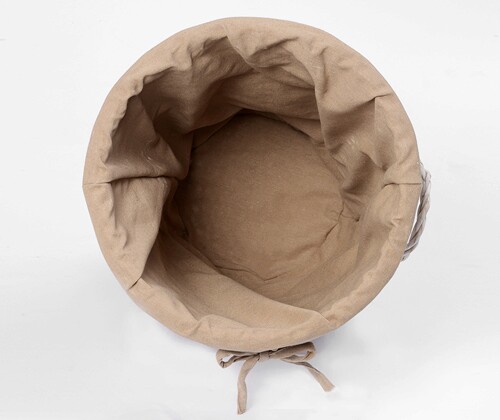 Wicker basket capacity
Each collection of wicker baskets features several items of different sizes. This makes it possible to choose the right capacity for a basket, with or without a lid.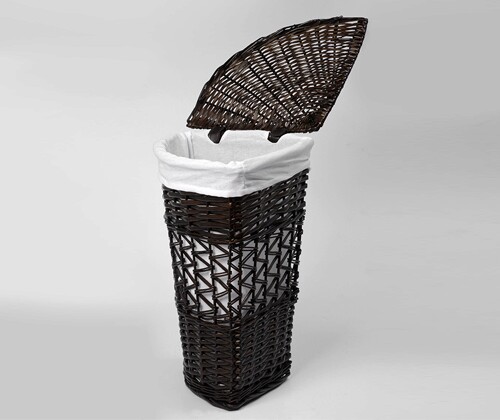 Simple product maintenance
Wicker basket is easy to take care of. The basket can be wiped with a damp cloth if necessary. Then it should be wiped with a dry cloth. The removable cover can be machine-washed at temperatures up to 60° Celsius.
Packaging.