Mixers body
Mixers body is made of high-quality brass with copper content not less then 59%. Brass is the best material for producing body of mixer and characterized by strength and durability. Mixers components (shower hands, shower brackets) are made of ABS-plastic. These materials are not suffered corrosion and intended for installation in places with high humidity and temperature differences.
In contact with water even at high temperature materials do not isolate particles posed threat to health of people.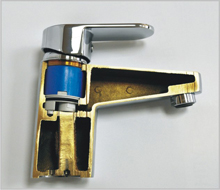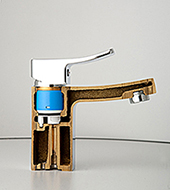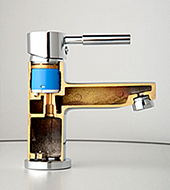 Plating

WasserKRAFT mixers pass galvanization process (lamination coating of chrome and nickel). Nickel-chrome plating is steady to fogging, can be easily cleaned and gives to mixers glossy shine and silver color.
We also use "matt chrome" (satin) plating. "Matt chrome" (satin) plating is made by special brushes with diamond bristles that allow achieving satin smooth surface. Then items are lacquered and satin plating becomes smooth and glossy. "Matt chrome" (satin) plating is very practical. On such plating you will never see dry stains from water.
We offer two-tone mixers: combination of Nickel-chrome plating and acrylic paint. At first items pass galvanization process. Then the special tape is stuck on the surface which needs to keep chrome plating. After that acrylic paint is sprayed on the surface which is not covered by the special tape. When the paint gets dry the sticker is torn off and mixer is put into the oven for baking at a temperature between 120-180 degrees during 45-60 minutes.

Light bronze and dark bronze plating. Mixers that require this kind of finish pass the bronze plating process. Whether the ultimate color will be lighter or darker depends on the exact proportion of metals in the alloy used during the process. Finally, accessories are polished and lacquered.

Soft-touch coating. Matt black soft-touch coating is applied to the products by galvanic process. Special color and tactile softness are achieved by using electrolytes containing nickel.
The coating is durable, easy to clean and velvet to touch.
PVD finish.
The product is cleaned and placed in a vacuum, where it is coated by means of vapor condensation. In this case, the vapor condensate contains particles of various metals as needed to obtain the desired color. Then it is covered by a protective varnish and sent for drying. WasserKRAFT faucets use four types of PVD finish: gun metal, brushed gold, polished black and polished gold.


Aerators
For a non-splashing stream we use plastic and silicone aerators Neoperl CASCADE®.
Benefits of plastic and silicone aerators Neoperl CASCADE®:
- anti-lime protection system
- aerator saves 10% of water consumption
- perfect stream quality even under difficult flow conditions
- very low noise level
- NeoperlCASCADE®is distinguished by durability and can not be crushed
- integrated anti-clogging dome screen filter prevents water from entering sediments and particles
- silicone aerator can be easily cleaned from the lime. Just rub the lime away with a finger, and debris will be
removed.
Washbasin mixers Aller 1064, Leine 3504,Ammer 3704, and Main 4104 are used with aerators Neoperl CASCADE with flow regulator 5l/min.
Mixers Berkel 4803, Berkel 4807 are used with aerators Neoperl Honeycomb with adjustable angle of water stream and flow restrictor 5l/min.
Fountain washbasin mixers Aller 1069 and Berkel 4869 are used with aerators Neoperl Rectangular which provide a splash-free stream.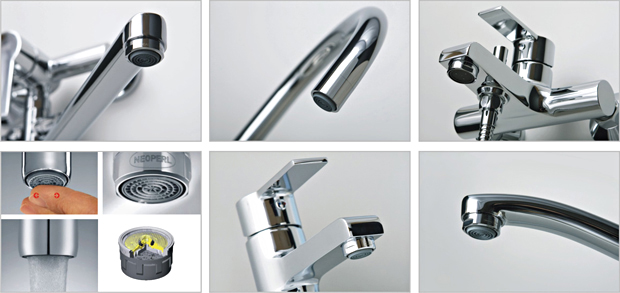 Mixers are used with 2 types of diverters:
- Ceramic swing diverter
Ceramic swing diverter consists of two ceramic discs pressed tightly together. Ceramic discs have holes that depending on swing of diverter redirect the water flow from the spout to shower hose or shower head. For switching water to shower or spout rotate the diverter by 90 degrees. Ceramic swing diverter is used in mixers with long spout and operates at zero pressure.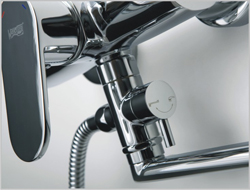 - Push-button switcher
Push-button switcher for shower is used in bath-shower mixers and operates under pressure of about 0,3 bar.
Push-button switcher has spring-pressed rod that depending on position of switcher redirects the water flow from the spout to shower hose or the other way round. For switching water to shower raise the button. The switcher will be at this position till water flow puts pressure on the valve.
The switcher is also equipped with rotary mechanism of hand fixation for using in places with low head of water. For hand fixation of switcher just raise the button and divert to 90 degree (Oder 6301, Rhein 1701, Isen 2601, Dinkel 5801).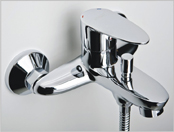 Reliable ceramic cartridges and headworks
In our mixers we use ceramic cartridges Sedal (Spain) with a diameter of 40mm, 25mm or 35mm and ceramic headworks 90˚ or 180˚. Ceramic cartridges and headworks are made of abrasion-resistant aluminum oxide calcined at temperature of 1200° C. After that all components pass ultrasound abrading process. High-strength ceramics increases resistance of mixer to hydraulic impact. Operational life of cartridges and headworks in WasserKraft mixers is about 500 000 opening-closing cycles. It means that family of four will be able to use mixers during 20 years without any restrictions.


Thermostatic cartridges
Thermostatic cartridges Vernet (France) are used in bathshower mixers Berkel 4811 Thermo, shower mixers Berkel 4822 Thermo. Thermostatic mixer gives an opportunity to maintain temperature automatically from 20 to 50 degrees. Maximum working temperature is 65 degrees.
Working pressure is 1 - 5 Bar, opt. - 3 Bar,max - 5 Bar.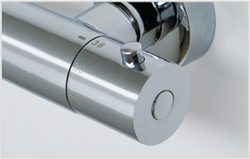 ECO-function in thermostatic mixers
Shower mixers Berkel 4822 Thermo have a special ECO-function thanks to which you can save 50% of water consumption. You just need to press the button of ceramic diverter Flühs (Germany) and turn the handle to ECO-function. In this case water will be supplied in water saving mode.
Please note! In thermostatic mixers hot water supply is on the left and cold water supply is on the right!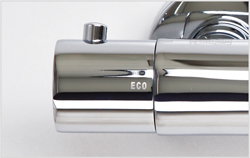 Progressive cartridge
This is a new way of faucet's operation mode. The handle of mixer rotates only in one direction, including for cold water. Turning the handle gradually increases the water pressure and temperature. Smooth temperature increases protect against burns and saves on hot water consumption.
Thanks to its technical features, this cartridge is miniature in size. This provides great opportunities for creating new product designs.
35-mm CeramTec ceramic cartridge, Germany
CeramTec is known for its unique ceramics program. One of its area of focus is to produce cartridges.
All products for efficiency testing are made in actual use.
Cartridges have a long service life thanks to quality materials, innovative processing methods and continuous quality control. Even after 1,000,000 openings and closures, the ceramic discs maintain precision in controlling water flow and temperature.
2-step ceramic cartridges.
2-step water saving ceramic cartridges Sedal (Spain), 35mm are used in mixers Aller 1068, Leine 3508, and Main 4108. Water saving is achieved by regulation of a handle position of a mixer. First step is a water saving mode with water consumption 10 l/min. For using this mode lift the handle until you feel a slight click (middle position of the handle). To achieve a full flow with water consumption 20 l/min, just lift the handle further after a click (upper position of the handle).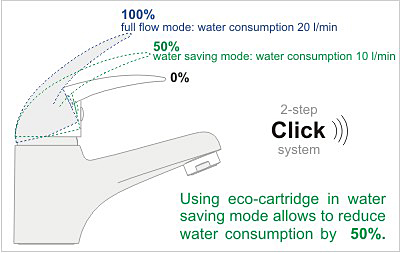 Swivel shower hose connector.
It prevents a hose break because of free swing towards a hose tension. It is used in mixer Lossa 1202L, Amper 2902L and Berkel 4802L, shower systems A13302 Thermo.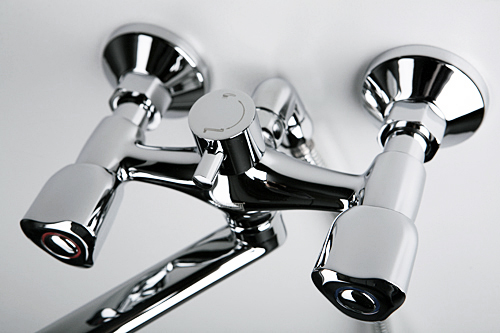 Filter faucets
These faucets can be hooked up to any standard drinking water filter. Filtered drinking water is supplied with a simple turn of the faucet lever.
Filter faucet models А8017, А8027, А8037 and А8047 can supply both ordinary tap water and filtered drinking water.
Turn the left lever on the faucet to adjust the pressure and temperature of the tap water. In this case, the water flows from one opening in the spout.
A separate opening is available for supplying purified drinking water; just turn the left lever on the faucet. In this case, the tap water lever should be kept in the closed position.
Filter faucets can be connected to any standard water purification filter.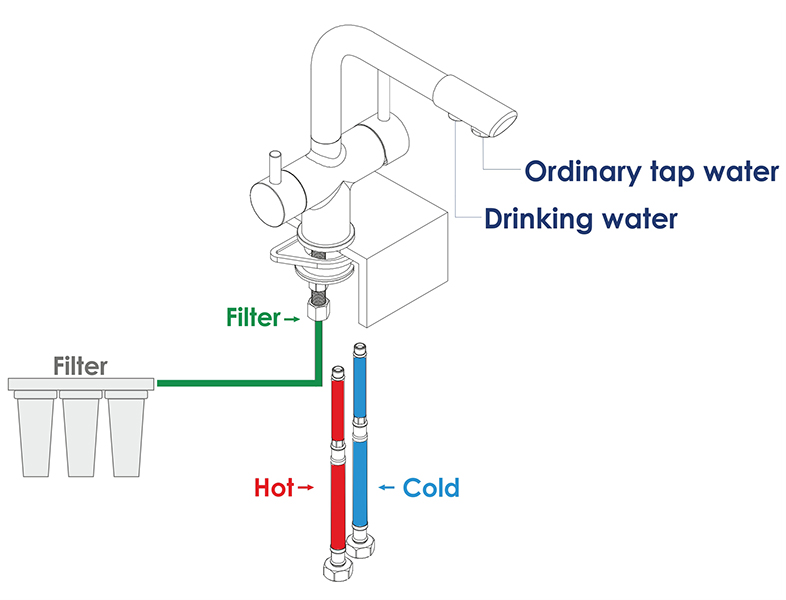 The set of bath-shower mixers consists of:
- Metal shower hose 1.5 m in stainless steel braid. The screw and conical nut of hose are made of brass and have connecting thread G1/2
- 3-spray hand shower with anti-lime system
- 5-spray hand shower with anti-lime system
- 1-spray hand showerwith anti-lime system
- Non-return valves Neoperl (Berkel 4811 Thermo, Berkel 4822 Thermo and mixers of shower systems A13302 Thermo)
- Swivel or fixed shower bracket depending on model of mixer
- Fitting kit (eccentrics and flanges).


The set of washbasin, sink and bidet mixers consists of:
- Flexible hose Sedal (Spain) with a length of 37cm (without rod) or 40cm (with rod) and connecting thread G3/8
- Aerator key (only for mixers with internal aerators. SeriesWeser 7803,Weser 7847,Aller 1067, Berkel 4802L)
- Fitting kit.

The set of mixers with bidet spray consists of:
- Bidet spray
- Fixed shower bracket
- Flexible hose Sedal (Spain) with a length of 43cm and connecting thread G1/2
- Flexible hose with internal non-return valve
- Metal shower hose 1.5m
- Fitting kit.
The set of shower systems consists of:
- Shower slide bar, brass
- Shower head made of brass, stainless steel or ABS-plastic (depending on model of shower system)
- Metal shower hose 1.5 m, stainless steel braid, connection to hand shower
- 3-spray hand shower with anti-lime system (The set of shower system А12202 consists of 1-spray hand shower)
- The set of shower systems А13302 Thermo consists of thermostatic shower mixers, the set of shower systems А12202 consists of showermixers.

All WasserKraft mixers compliant with Russian and European standards on durability, mechanical and chemical stability which is confirmed by certificates of GOST Russia Certificate of Conformity, Hygiene Certificate, WRAS (England), KIWA (Holland), TUV ISO 9001:2000.